The holidays are just around the corner, which means many of you are either working on gift guides or have already published them. While you've been searching for the perfect gifts to include on your own guides, have you stopped to think about what to include on your own personal wish list?
When it comes to blogging, I'm a firm believer in two things:
Blogging need not be expensive. You don't need to go out and invest in the best of everything before you've ever typed a word. Nor do you need a DSLR camera to take good photos. I promise that you won't magically write better if you buy a Mac. What you need is a good work ethic and the confidence to believe you're good at what you're doing, even on days when people don't leave comments or make purchases via your affiliate links.
While blogging shouldn't be an expensive hobby, when money allows I do recommend investing in books, courses, and other small tools that will teach you new skills and/or make some aspect of your site seem more professional.
With these two beliefs in mind, I put together this collection of gift ideas for bloggers. These are the items I recommend adding to your own wish list or treating yourself to as a special holiday bonus.
Videography & Photography Gifts
Believe it or not, it used to be OK to publish blog posts without any photos. Sadly, that's no longer the case. Photos are a must!
Sony A5100 Camera
I fully recommend using your cell phone to take pictures for as long as possible, but once you're ready to move up, the mirrorless Sony A5100 digital camera is a great option! It's so much easier to use than a DSLR, but the photo quality is just as good. It connects to Wi-Fi for instant sharing and can also be used to record full HD videos.
SanDisk 128GB Ultra UHS-I Class 10 SDXC Memory Card
If you're going to splurge on the fancy camera, don't forget to pick up a memory card with lots of space on it! This particular one is fast and will store plenty of HD video, letting you take advantage of all of the features the Sony a5100 has to offer.
A Color Story App
A Color Story is absolutely one of the best mobile photo editors. You can do everything with this powerful app, from adjusting the light balance to cropping to adding filters and so much more. While the app itself is free, there are "packs" available for purchase inside the app that will help you quickly and easily create even more gorgeous photos. In other words, a recommendation to download the app and then a gift card to the Apple App Store or Google Play would be an awesome gift!
Mobile Photography Course
Taking photos with your cell phone isn't hard, but there is an art to taking good photos. If you're ready to become a mobile photography pro, Craftsy has a few great photography courses available, including Mobile Photography: Perfect Photos in Your Pocket, iPhone-ography, Shoot It: A Product Photography Primer, and more.
Photo Tent with Studio Lights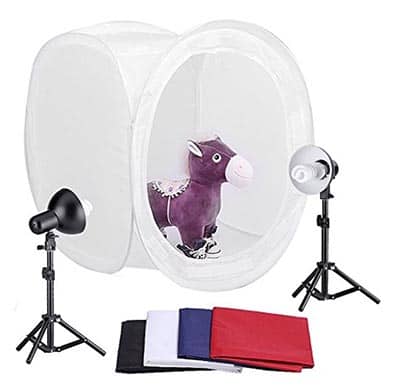 They always recommend shooting your blog photos using natural light but depending on a number of things, like where you live or your working schedule, this may not always be possible. Our apartment basically has no natural light and I take a lot of product photos, so purchasing a photo tent with studio lights is one of the best blogging investments I have made. With a tent like this (and I highly recommend getting one that comes with the lights), I can consistently take great pictures.
I have a DSLR and numerous other cameras, but since getting this photo tent 100 percent of my photos are taken with my iPhone.
Cell Phone Tripod
If you're using your cell phone as your main camera or video camera, then I highly recommend investing in a cell phone tripod to help keep things steady. I don't do many Facebook Live videos, but the last time I did it was maybe 7 minutes long and looked like I was standing in a windstorm because my arm got tired of holding the phone and it started shaking. Yikes. This tripod really would have come in handy so that I could film a more professional-looking video!
The great thing about this particular tripod is that it can stand upright but you can also wrap the legs around items when you need a little more flexibility. For instance, maybe you want to hang the tripod from a pole or the top of the TV. I also love that this tripod comes with a remote, which is absolutely fantastic for selfies! Speaking of selfies, push the legs together and you've also got yourself a quick selfie stick!
Yeti USB Microphone
If you post videos as part of your blog, you absolutely need this Yeti microphone – which is just the best USB microphone out there right now. Plus, it comes in some super fun colors to go with any office aesthetic!
---
Gifts for bloggers who live on their phones
Portable Phone Charger
There's seriously nothing worse than attending an event only to have your phone die in the middle of it. As bloggers, our phones are often the most important things we carry with us on a daily basis!
The only way to protect against batteries that will inevitably die at inopportune times is to invest in a portable phone charger. This particular one, the iMuto 10000mAh Mini Portable Charger, is nice because it lets you charge two devices at once and can charge an iPhone a full four times before it needs to be recharged again.
Need even more of a charge? Get the 20000mAh charger and charge your iPhone EIGHT times!
PopSockets
I hesitate that selfies have become a way of life, but they've kind of become a way of life. A PopSocket will not only help your favorite blogger take better selfies, but will also double as a phone stand. The best part? A PopSocket gives you a better grip on the phone, which means fewer repair/replacement bills!
Selfie Ring Light
I don't want to say blogging is all about selfies, but there are going to be a lot of times when you need to snap a quick pic or film a video in lighting that is less than optimal. A selfie ring light can be the difference between a room that's so dark you don't show up in the pic at all and one of the best photos you'll ever take.
Power Up Tassel Keychain from Mark & Graham
While not a stand-alone charger like iMuto one above, this adorable tassel keychain hides both an iPhone lightning input and a USB cable so that you always have a charging cord on hand. I can't tell you the amount of times I've remembered a power bank but not the charging cord! It would be so helpful to always have a cord on your keychain.
Muk Luk Fair Isle Touchscreen Gloves
When it's cold outside and you're on your phone all the time, you absolutely *need* touchscreen gloves! These cute fair isle ones are on sale for only $15 at Kohl's, and they're cute, warm, and on-trend. Oh, and they'd also make a great stocking stuffer for your screen-obsessed teens! 
Tech Armor Cleaning Kit
This admittedly isn't the sexiest gift idea, but anyone who spends a lot of time on their phones, computers, or tablets knows how quickly the screens get dirty. This simple stocking stuffer ensures that screens stay clean and crystal clear!
---
Clothing & Accessories for Bloggers
Blogging Tee
This sweet blogging tee was actually designed by yours truly and is available for purchase from the Oh She Blogs Etsy shop, which features fun apparel for bloggers, most of it available in sizes XS-3XL.
Influencer Tee
Influencers and bloggers crossover in the middle of a Venn diagram, and this shirt would be a super cute gift for those who fall under both categories!
Bloggers do it Better Tote Bag
Because who couldn't use another bag to haul around your laptop, chargers, planner, idea notebooks, and snacks?!
Hashtag Enamel Pin
The 90s are back, and enamel pins are all the rage these days, so why not snag this adorable hashtag pin from Etsy and pin it on that cute canvas tote?
Striped Thermal Pajama Sleep Set
Let's face it – a lot of blogging is done from the comfort of your own home. Emphasis on *comfort.* And sometimes you just want to stay in pajamas all day while you work! So why not treat yourself – or the blogger you love – to some super soft, super cozy, cute matching jams so you can blog in comfort AND style from your couch? These great thermal pajamas from Target come in sizes XS-4X, and you can snag them for only $24.99. 
UGG Andi Slipper
s
Treat yourself to these slippers along with those pajamas above, and you might never want to leave the comfort of your house again!
Cute Blue Light Filtering Glasses
Staring at a computer screen all day doesn't always do great things for your eyes. Eyestrain associated with computers can cause headaches and upper body tension, and just all-around feel like a real bummer. And there's nothing worse than working to make a blogging deadline when your eyes are killing you! That's why these blue light filtering glasses are so fantastic. Throw them on – yes, even if you don't need glasses – and they'll ease your eye strain while working on the computer.
All Warby Parker frames now come with the option to add blue light filtering! If you're wary at the thought of buying glasses online, don't forget that Warby Parker has a free home try-on program, so you can find the best frames for your face!
Cozy Socks
This might make me sound a little old and I don't mean to date myself, but for some reason, bloggers sharing photos of their feet ensconced in cozy-looking socks on Instagram is a big deal. So if you're looking for an easy blogger gift idea, why not pick up a pair of some of the cutest socks around, these Alpine Thigh High Boot Socks.
Blogging Books
How to Blog for Profit
There are a lot of books out there that will teach you how to be a better blogger and how to make money blogging, but I think this particular book, How to Blog for Profit Without Selling Your Soul by Ruth Soukup, is one of the absolute best. I purchased it on the day it came out in 2014, and to this day it's one of the best blogging books I've read. The main reason I love this book? It provides concrete examples and actionable steps that are easy to replicate regardless of how long you have been blogging.
If you're not familiar with Ruth Soukup, she's the blogger behind LivingWellSpendingLess.com and also the founder of Elite Blog Academy.
Blog Traffic E-Book
One of the questions I am frequently asked is "how do I get more traffic to my blog?" That's a complicated question to answer quickly but Lena Gott's book, 17 Strategies I Used to Increase My Page Views: From 17k to 350k+ Each Month, does a great job of tackling this topic and providing easy-to-follow and actionable tips that will help you start growing your blog traffic. She shows specifically what has worked for her and clearly shows you how you can replicate her success.
Dominate the Search Engines E-Book
One of my very favorite blogging-related purchases this year was this e-book, Dominate the Search Engines Using Webmaster Tools by Kelli Miller and Crystal Vantassel-Lopez. I consider a book to be worthy of recommendation when it provides copious details about what works or doesn't work and when the authors give step-by-step instructions for what you can do to replicate their success. This book has that in spades.
Google Analytics has always been a bit of a mystery to me, but this e-book breaks it down into conquerable nuggets of information – there are 30 different short lessons targeting different aspects of the data provided by Google Analytics – and in no time you will be putting those analytics to work for you and enjoying increased traffic to your site.
---
Coffee
Motivational Mug
Do you NEED a motivational mug? Absolutely not.
But let me tell you: There will be days that this mug will be the best thing about the day, either because of the (presumably) caffeinated beverage it contains or because of the message that reminds you to keep going.
I can't say this enough: Blogging is hard work. You are going to need something small to remind you to keep going on the hardest of days and bring a smile to your face on the easier ones.
Keurig
If I could, I'd have a Keurig in every room of my house. Currently, we only have one in the kitchen, but I'd really like one to keep on my desk for those times I'm in a writing groove but still need a jolt of caffeine to keep me going.
San Francisco Bay Fog Chaser K-Cups
If you've got the cup and you've got the Keurig, you obviously need some coffee. San Francisco Bay Fog Chaser is my absolute favorite Keurig-friendly coffee. As an added bonus, the pods can be used in multiple types of machines and they're biodegradable.
Blogger Checklist Mug
Because who doesn't want to drink their coffee out of this cute reminder of what every day is like? It's not quite as motivational as the last mug, but it's still a cute reminder of what you do all day long!
---
Gifts for bloggers attending conferences
Business Cards
If you're planning on attending any blogging conferences or blogger meet-ups in the coming year, professional business cards can be a great option to add to your blogging wish list. They're great to hand out to fellow bloggers, but they're especially ideal if you'll be meeting with any potential partners and/or advertisers!
Check it out: I prefer the cards from Moo.com (and they frequently offer discounts via sites like Gilt City), but you can get business cards from almost anywhere
Blogger Babe Pencils
These are adorable, and would make great stocking stuffers!
Card Case
If you're going to attend a blogging conference and carry around business cards (and you MUST carry around business cards), I highly recommend getting a card case to not only carry yours in, but also to carry the others that you pick up. I really like this lanyard card case from Kate Spade, which will make your cards easily accessible throughout the conference!
Chic Luggage Tags
These cute luggage tags will make it a cinch to keep up with your bags!
Olika Hand Sanitizer
This isn't the sexiest gift idea, but it's always a great idea to have hand sanitizer on hand when you're in a situation that involves shaking hands and exchanging business cards all day. This Olika hand sanitizer is ultra-moisturizing, claiming to improve skin hydration for up to 24 hours, and the packaging is so much sleeker than most sanitizers you see at the store! This cute bottle is tiny and will easily fit in your purse, plus it holds 500 applications.
---
Inspirational
PowerSheets Goal Planner
After years of talking about it, late last year I finally decided to take the plunge and start Oh, She Blogs! The main inspiration for FINALLY getting my act together? Lara Casey's PowerSheets One-Year Intentional Goal Planner.
This LARGE planner will walk you through goal-setting exercises, and also help you follow through with those goals. There are myriad worksheets, stickers, quotes, and a 12-month dated monthly workbook. This is a truly gorgeous and sturdy guide that will help you bring your blogging goals front and center in the new year.
Bottle of Bubbly
Add a fancy bottle of bubbly to your holiday wish list and use it to toast the end of this amazing year or the start of what I know is going to be an amazing new year for you. OR, hold on to the bottle and use it to toast your accomplishments at the end of next year!
I personally love this bottle of fancy glitter sparkling wine, but your beverage of choice will suffice just fine. Regardless, ring in the new year on the right foot, look forward to the year ahead, work hard, and remember to celebrate all of your accomplishments both along the way and at the end of the year. Blogging is hard work so getting through another year of it is something to be commended!
Stop Reading the Comments
Keep your sanity. Never read the comments. I know that sounds counter to what you should do, but sometimes you just have to let things roll off your back.
Shinola Medium Soft Linen Journal
Despite working all day on the computer, I still love having a notebook to jot down ideas beyond what I use my planner for. This beautiful Shinola notebook looks sleek, classy, lies flat, and is completely manufactured in the United States – plus, Shinola is based in Detroit, my hometown!
Keep Going, Keep Growing Wall Art
Just like that coffee mug, there will be some days you're sitting in your office area, staring blankly into space, begging for motivation. And on those days, you will look at this piece of art on your wall and it will remind you to keep at it! 
Slay All Day Computer Wallpaper
Because, for $2, who wouldn't want another reminder to keep being awesome?
---
Tools of the Trade
My $20 SEO Course
Without a doubt, the #1 thing that can take a blog to the next level is a fundamental understanding of Search Engine Optimization. I wrote a course, Introduction to SEO for Bloggers, that will teach you everything you need to know as you start optimizing it so that Google will send organic traffic your way.
Stock Photos
Y'all know how much I love free stock photos, but considering this is a list of gift ideas for bloggers, I'd be remiss to not include a subscription to a stock photo site.
There is absolutely nothing wrong with using free stock images. But if you want to upgrade your blog and make it stand out from the rest of the blogosphere, purchasing stock images can be one way to do this. There are a few free images that are so oversaturated at this point that I think they should be retired but that's not a problem if you have a stock photo subscription! A paid subscription will also open you up to so many different photo options that can help create a specific feel for your site based on the photos you choose. (My favorite tip? Search for photos by photographer! There are a few different photographers whose styles I love, so I always look for their newest photos first.)
Check it out: There are a couple of companies from which I have purchased stock photos in the past, including iStock and Bigstock – prices vary depending on the plan you choose
Canva Pro Subscription
Unless they're one of the fortunate ones with their own design team, bloggers do a lot of design work. They have to edit images for their own blogs and prepare tons of social media images. A blogger gift idea that's sure to make any blogger's day is a subscription to Canva Pro. Canva Pro makes it quick and easy to create images, thanks to tools like one-touch resizing for social media images, and the ability to upload your own fonts and colors so that branding becomes a simple process.
Setapp
The number one tool that all bloggers need that likely few know about is Setapp. Setapp bundles 100+ different programs that you can get for just $9.99 per month. There's a photo editor, image squasher (for when they're too big to upload to your site), Instagram scheduler and SO much more. They're constantly including new applications, too.
I promise – this will be the best $9.99 spent each month.
Please note: Setapp is ONLY available for Mac users.
Jaaxy Subscription
Over the course of writing this list of gift ideas for bloggers, I realized the one blogging-related gift that I'd really like to receive this year is a Jaaxy subscription. There are a lot of keyword tools out there – many of them free – but I think Jaaxy is by far the easiest to use and understand.
While there are many different tools you can use to get your blog posts in front of readers, including Facebook sharing groups and Pinterest and other social media sites, I always recommend taking the time to employ good search engine optimization to every single post you write. Pinterest could go under tomorrow, but good SEO will never fully fail you. Jaaxy makes it as easy as possible to ensure that you're targeting the right keywords to draw traffic to your blog.
Tailwind
My favorite blog-related scheduler is Tailwind. Pinterest is one of the biggest drivers of blog traffic for many bloggers and Tailwind will help you take your account to the next level. (And yes, they do offer Instagram scheduling now, too!)
Tailwind lets you schedule pins from your own blog, across the internet, or even directly from Pinterest, and will repin at the times that are maximally beneficial for your audience. You can also easily repin any of your pins that are doing really well. Plus, the analytics are amazing! Since taking Pinfinite Growth and signing up for Tailwind about a year ago, I've seen my Pinterest followers go from approximately 300 to nearly 10,000.
Indulgences
MacBook Pro
Go big or go home.
Shinola Tech Portfolio
This is a big indulgence, but what a beautiful indulgence it is! The Shinola Tech Portfolio – coming soon in this gorgeous Crimson color – can fit your tech devices, a cell phone, a passport, a tablet, and also has four additional card pockets. If you're a jet-setting blogger always on the go, this is a great travel option for you – throw your luggage in the overhead compartment and keep this sleek clutch portfolio on your person. This would also be a great grab-and-go option for conferences or meet-and-greets! 
Audible Subscription
An Audible subscription is a fantastic gift idea for any blogger who loves to read but spends all day staring at words on a computer screen or phone. Plus, Audible has basically every hot book you want to read right now, and the best part is that you don't have to wait on a library hold list forever! 
Apple AirPods
Every blogger needs a good pair of earbuds so they can tune out the outside world as they work, and it doesn't get much better than these sleek, popular Apple AirPods! Definitely an indulgence, but one that you'll appreciate for years to come! 
Blue Apron Subscription 
For those of us who can't handle thinking about meal planning after a long day/week/month of work, a meal subscription service like Blue Apron is the perfect gift idea! The meals come directly to your door, involve very little prepping, and with almost no effort at all, you have a fabulous home-cooked meal on the table (and it usually tastes like something you would get at a restaurant!). 
Starbucks Gift Card
Because if you aren't working at home, you're probably in Starbucks with your brand-new Apple AirPods! 
Whether you're looking for an inexpensive treat or something splurge-worthy, my hope is that this list of gift ideas for bloggers provides you with some ideas to help get the juices flowing.